Our group of 8 students stayed in Skaramagkas camp for 3 days (Jan 11,12,13). Most information was gathered through observations, two camp tours and private talking with the camp organizer Mohammed and the volunteers working there.
— Facilities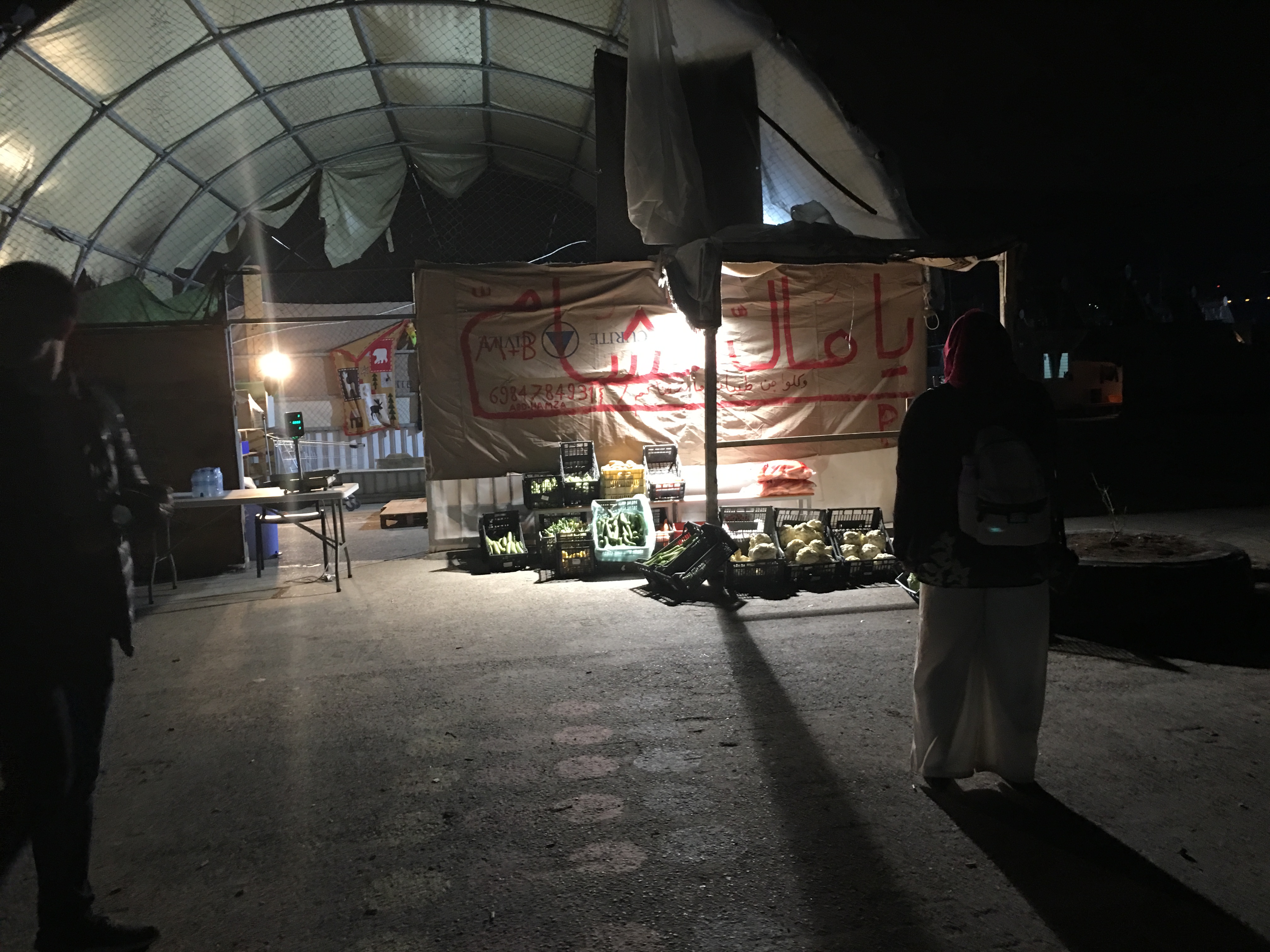 The camp is located at the edge of the city Athens next to the ocean. The area is filled by slight smell of gasoline.  Skaramagkas is a very functioning camp with all the facilities inside—pretty much like a small country according to Mohammed's words. There is a grocery with vegetables on the floor and a scale on the table. Shops selling necessities of life are opened by people living there. Several places to eat can be found within the camp area as well as along the bay (with breathtakingly beautiful view just like a little corniche). I'm not sure if that was a bar but I saw people drinking and chilling inside one place. Surprisingly there is also a game room by the bay with people playing billiards and playing music. There is a gym next to the activity room, in the morning for men and in the afternoon for women. There is also a kindergarten with playground, a health care center, a football pitch and a basketball playground.
–Containers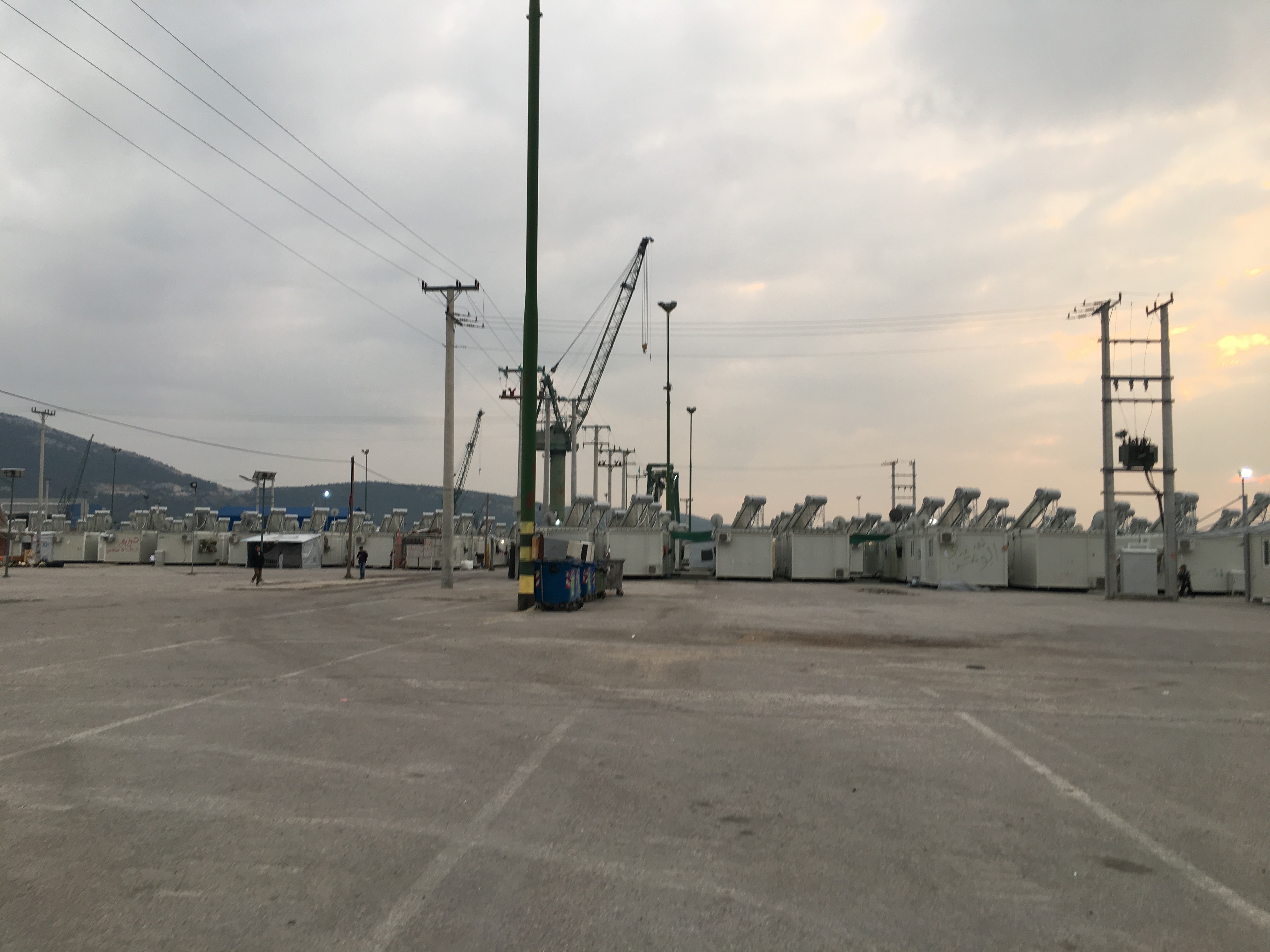 Each family occupies one container with a living room/ bedroom (bunk bed provided), a kitchen, and a bathroom. They are powered by the solar pedals on top of roofs. Initially two families shared one container, although now each family has its some of its own privacy, the container is still a limited space for large families. The containers are designed for 3000 people according to a volunteer who has been working there for 9 months. Now getting containers is becoming more difficult. Though it shouldn't happen but there has appeared a black market where residents sell containers to new comers. There is a lack of regulation for the residents, so people exercise a fairly high degree of autonomy. The monotone white containers also serve as a place for self-expression. For example, on one wall written in Arabic was "The only way through Palestine: Rifle" while another wall was decorated with beautiful flowers.
— School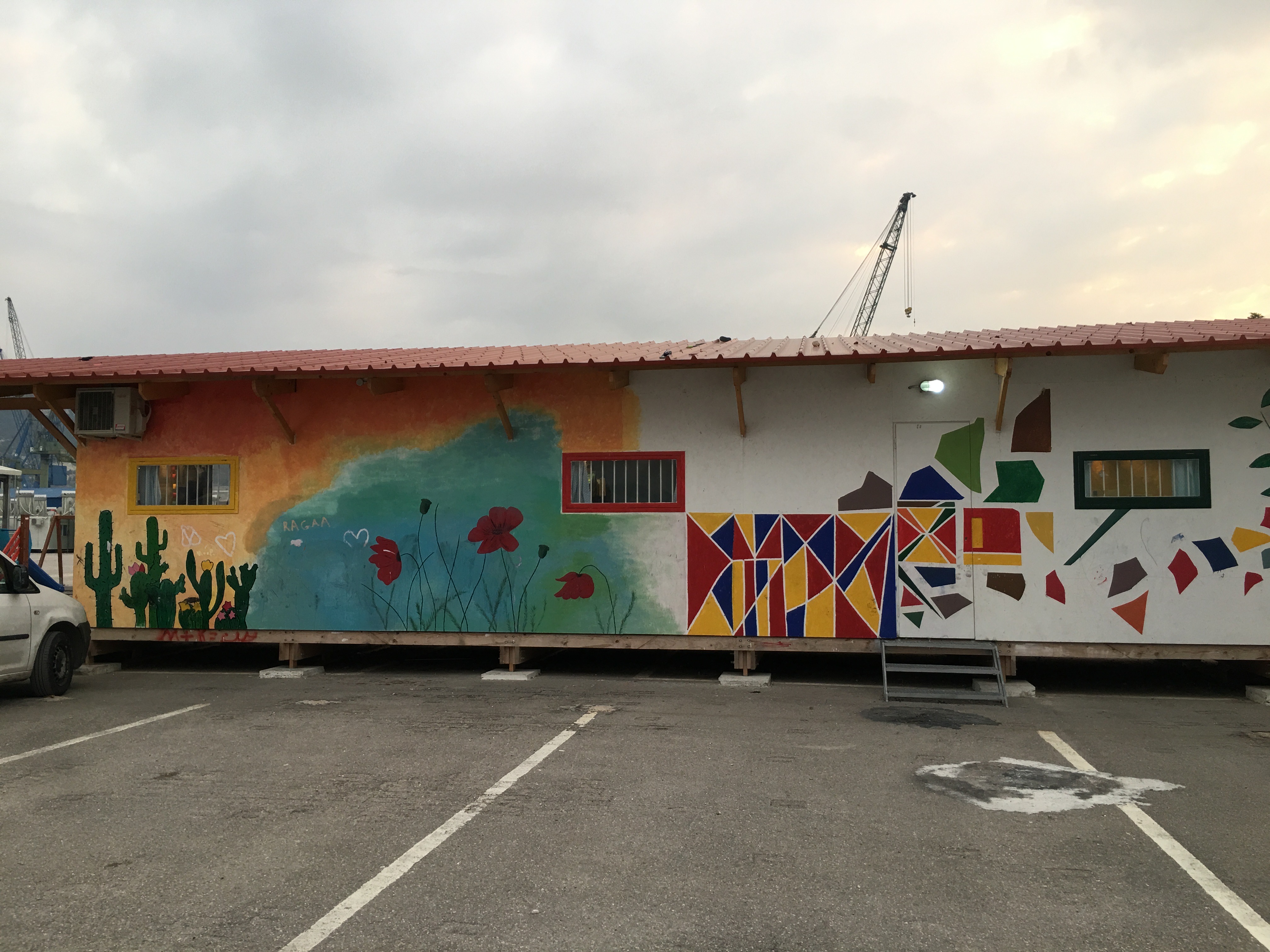 There is a hope school located within the camp. Its teaching is similar to that in Syrian schools. Languages such as English and Arabic are taught there. It also sometimes teaches football. It is a place for both children and adults, for people to start life from scratch. They can learn Germen if they want to further move to Germany and they can learn Greece if they hope to integrate. One problem pointed by a teenager of the camp is that the classes are mainly for beginners, so she could not learn much as she already knew the materials. Now the hope school is closing because it is hard to find volunteer teachers. Another option for children to receive education is to take the camp bus and attend local Greek school. However so far approximately only 200 children out of 2000 go regularly. Not all parents want their children to go because a) they don't want to stay in Greece and don't want their children to learn Greek, and b) they are afraid of letting children go into the city and places they are unfamiliar with.
— Activity room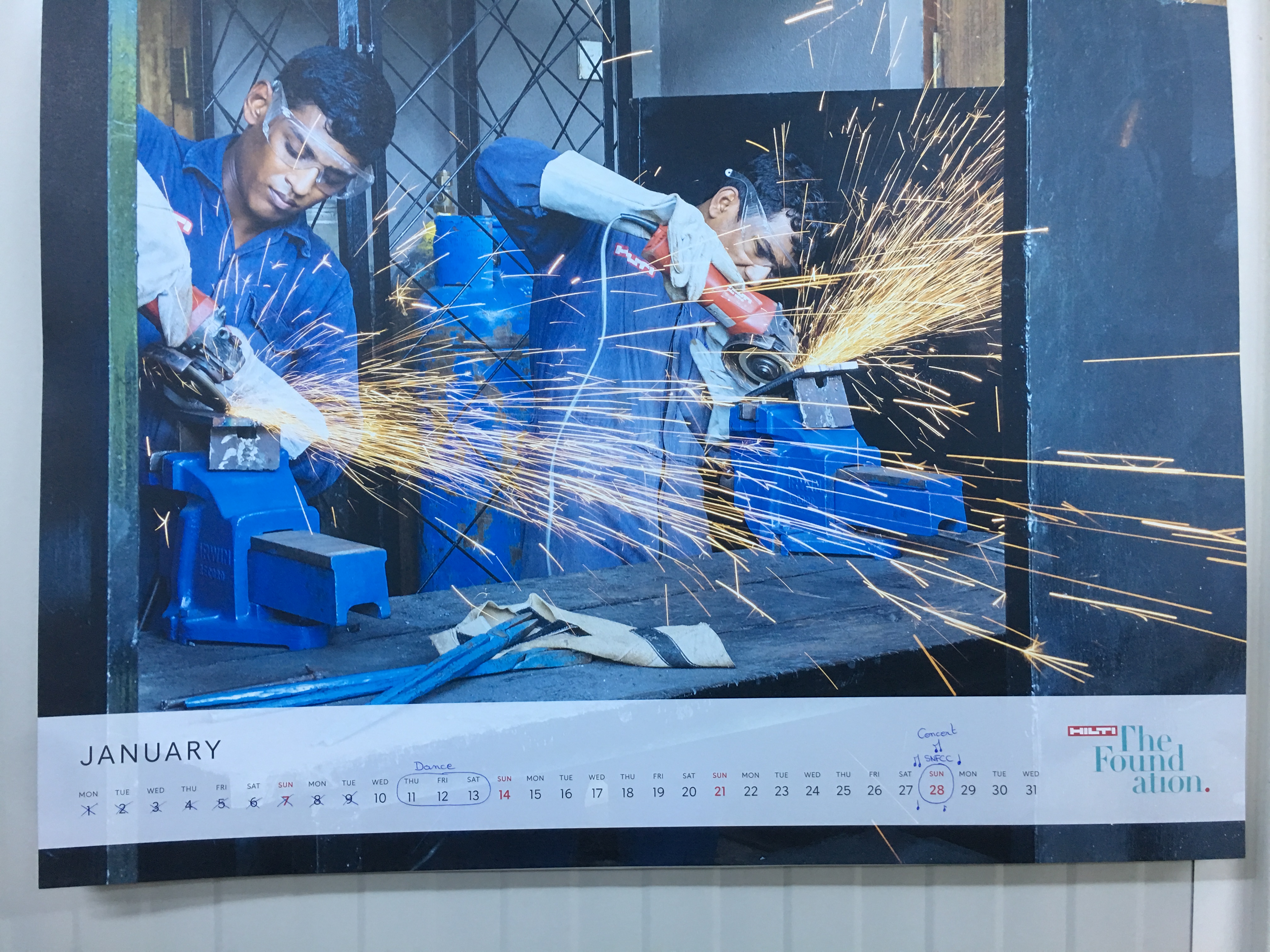 There is a square room with wooden floor at the center of the camp. It is the activity room of the community, not part of the school or part of any family. This is the base of our group's daily teaching and interaction. At the corners of the room are a box with musical instruments including violins and drums, some chairs, musical stands, and an electronic piano. On the wall of this activity room pictures, notices, music scores, and a calendar are put up. There are regular violin and singing classes delivered by volunteers and NGOs, and occasionally there are dance sessions as well. As indicated by the calendar, there will be a concert soon after our leaving.
— Community building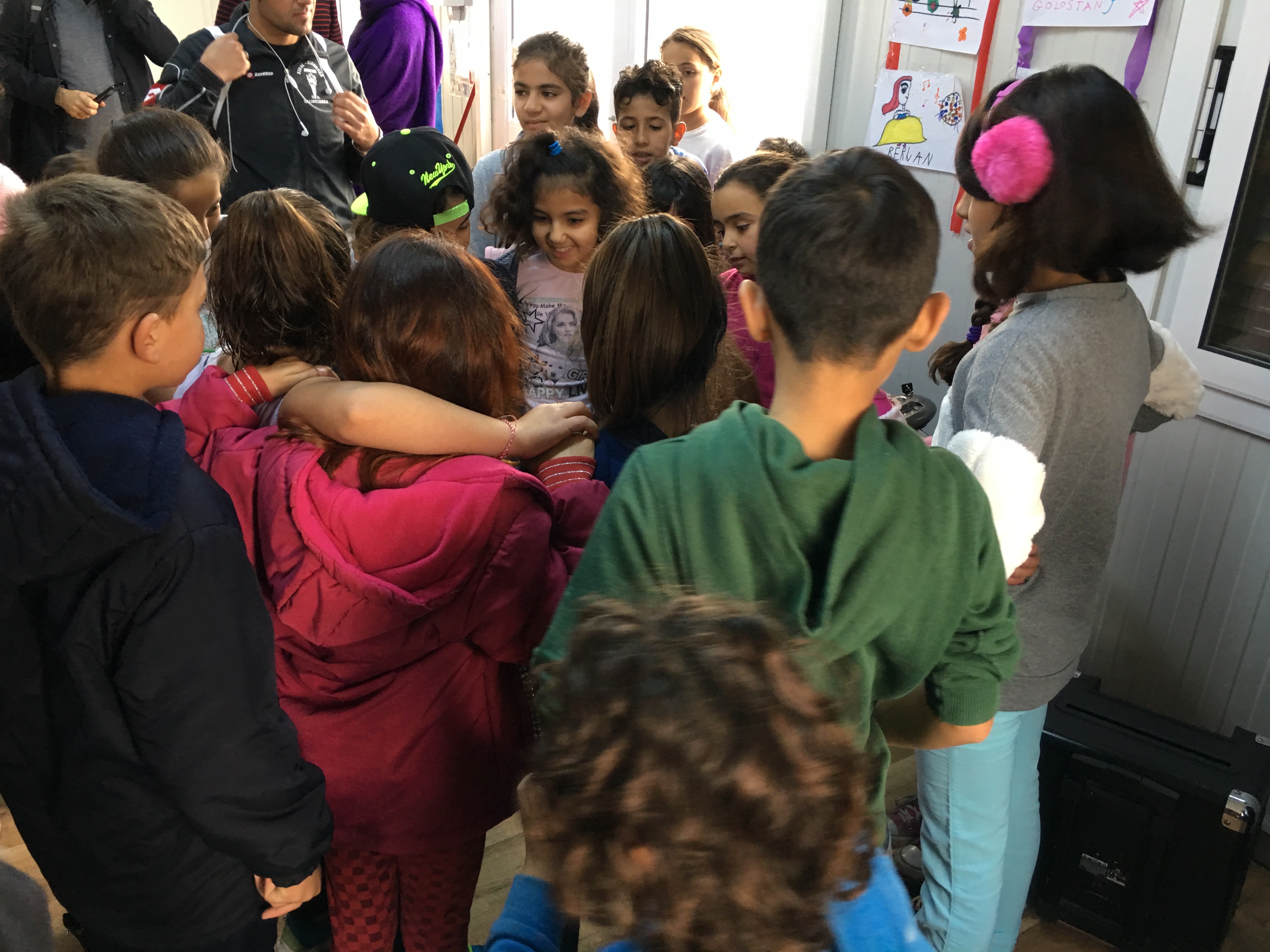 The community within Skaramagkas camp is very diverse, comprising people from different regions, of different cultures, languages, and religions. The majority of people are Muslim, they can go to the mosque in the center of city to pray. There is also a place of religious services within the camp for people to pray every day. Apart from Muslim, there are various other religions existing in the camp. According to the volunteers working there, initially there were a lot of fighting among people, but now it is quite peaceful. Integration within the camp is a focus of volunteering work. At first, children from Syria only play with children from Syria, but now it is natural for different groups to interact with each other. Days before we arrived, a wedding ceremony took place—people there build relationships and families just as people anywhere. People cannot work legally in the city, and their income relies on grant from the United Nation.