The first sketch shows the set up of the room which we used each day with the children. The room was extremely conducive for dance and our purposes. The children particularly liked turning on the light switches which was with their reach on two corners of the room. The room painted pink and white on the outside was in the centre of the camp just before the football field. It was not soundproof which drew more people to the rom as our music played but was cozy and comfortable amidst the rainy afternoons
Layout of Children in the Dance Room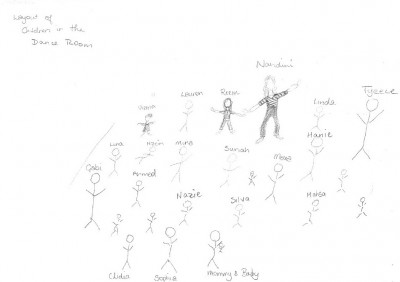 The second sketch shows the layout of the children generally in the room. The position of Nandini and Gabi swapped depending on who was teaching choreography/ running warm up. Generally we worked with circles and lines but naturally with young children they moved all over the room and barely stayed in the position we put them. The set up was still good as the size of the room allowed us to always reign in the children and keep them engaged.
Other Activities going on in Camp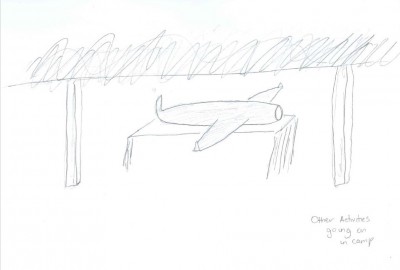 The final sketch shows an image of a papier mache plane which was being built under the shed in the camp. After entering the camp the path to our dance room allowed us to get a good orientation of the camp. There was a shed upon entry which seemed more just for people milling around. As we walked, to the right was a container that seemed to be a second hand store and to the left were containers that served as houses. As we kept walking, we passed a line of shed to our left under which a number of activities were going on with children, teenagers and adults. These activities included, craft, board games, language lessons and simple interaction. There was of course sports (mainly football and basketball) which took place in the field behind the dance room.